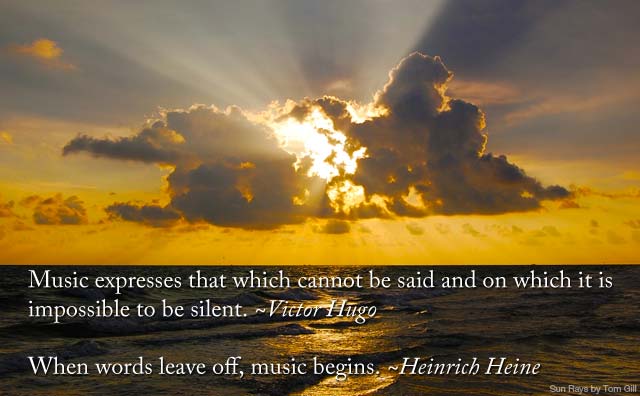 Every life has its own unique story. The last farewell should celebrate your loved one's life in a personal and meaningful way. Maureen can help you through this sorrowful time with the restorative power of song.
The right music at Funerals, Memorial Services, Gravesite Services and Celebrations of Life creates a calming, uplifting and unifying spirit that promotes healing for family and friends who gather.
Musicians: Maureen can provide musicians such as piano, guitar and flute, or work with your church's accompanist. She can also use prerecorded accompaniments instead of live musicians.
Songs: Maureen offers a wide repertoire of songs from traditional funeral songs and hymns to popular pieces. You can also choose any music for a funeral that has special meaning for your family. Maureen can even customize a favorite song to make it more personal for the family or the loved one.
Maureen believes that singing at a service to commemorate and celebrate a loved one's life is a privilege and a calling. She'd be honored to help you through your transition.
Audio Samples
Examples of Songs for Celebrations of Life
Secular Songs

Angels Among Us
Because You Loved Me
Bridge Over Troubled Waters
Bridge Over Troubled Waters
Danny Boy
I'll Be Seeing You
I Can Only Imagine
I Will Always Love You
In the Arms Of The Angels
Let It Be
Moon River
Morning Has Broken
My Heart Will Go On
My Way
The Prayer
The Rose
To Everything There Is A Season (Turn Turn Turn)
Unforgettable
What a Wonderful World
Wind Beneath My Wings
You Raise Me Up

Sacred Songs

Amazing Grace
Ave Maria
Be Not Afraid
Be Though My Vision
Great Is Thy Faithfulness
Hail Mary/Gentle Woman
His Eye Is On the Sparrow
Hosea (Come Back To Me)
How Great Thou Art
I Am the Bread of Live
I Can Only Imagine
I Have Loved You
I Know My Redeemer Lives
In the Garden
Irish Blessing
The Lords Prayer
Make Me a Channel of Your Peace
On Eagles Wings
Only In God
Panis Anjelicus
Shepherd Me Oh God
Surely the Presence
Take and Eat
Wherever You Go, I Shall Go
You Are Near
For more examples, see FuneralSinger.com.
Maureen Christine's singing made my mother's funeral service a touching and beautiful experience. From our first email connection and consequent phone conversations , I knew I was dealing with a professional who "knew her stuff".

Several hymns my mother requested were quite old and it took some research on Maureen's part to locate them and familiarize herself with the arrangements. Maureen came through and flawlessly performed the requested hymns.

Her voice transformed the church into a peaceful, holy place. Thank you Maureen Christine  for all you did to make  this sad day such a memorable send off for my mother.

Sue Berry (February 2013)